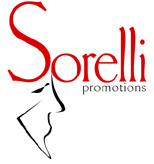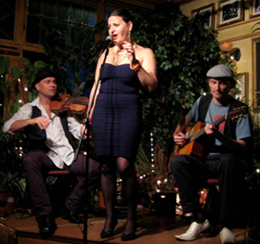 MY SAUCE GOOD
My Sauce Good is a tasty acoustic trio playing a unique Worldmusic with the following ingredients: addictive French Swing, original tunes, soulful Latin-American folksong, a haunting Hebrew lullaby, Bohemian Jazz from the 1920's onwards and contemporary songs given a new lease of life.

Fun, flavoursome and stylish with a cheeky edge, the group has been going from strength to strength since its formation in 2008. My Sauce Good's many memorable performances at a selection of Australian music festivals and hip Jazz clubs include: Surry Hills' 505, major theatres such as The Seymour Centre, Riverside Theatre, Vanguard, and The Art Gallery of New South Wales, to mention a few. The groups international appeal has ensured they have been ecstatically received on their July/August 2010 European Tour, playing to enthusiastic festival and venue crowds in: 301 Overtoom- Amsterdam; Teatro del Sale- Florence; La Bellevilloise- Paris; Le Quecumbar, Salon d'été- London; Secret Garden Party Festival-Huntingdon-UK; Joe's Bar- Berlin; Museum Bar- Bastia, Corsica; The Globe- Dublin. The band is proudly promoting their new self-titled debut cd.

"As their name suggests, My Sauce Good cook up a tempting array of slow cooked soulful folk, Jazz and Swing from nostalgic bygone eras…. what better way to intrigue the mind and warm the cockles of your heart, mind and belly with a generous serving of My Sauce Good" (Jessika Steiner, ArtsHub, 2010).

About The Musicians: Argentinean-born chanteuse Laura Brozky sings in English, French, Italian, Hebrew and Spanish. She brings an international flavour to the trio acquired through a lifetime spent residing in various parts of the globe. Australian-born of Dutch descent, Dirk Kruithof plays a spirited swinging guitar accompaniment. He has played, toured and composed extensively with Sydney legends 'Waiting for Guinness'. He arranges much of the material. Bulgarian born Violinist Veren Grigorov studied at the Conservatorium of Music in Sydney, Vienna and Hannover. Veren charismatically ignites the trio with hot passionate bursts of gypsy-like violin.