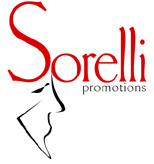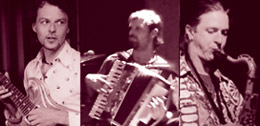 WILSON - GRANT - MAGNUSSON TRIO
Formed late last year, this trio have a folkloric approach to their music. Their mostly original material, written just for this group, is more about the overall sound than individual theatrics. They focus on playing beautiful melodies with lush harmonies that take the audience on a dreamlike musical journey round the world. The trio sets them in a very different context from their more widely known collaborations together playing many styles of jazz based music with bands such as Snag, Festa, assumptions, the Australian Art Orchestra, Virus, The Band Who Knew Too Much & groups led by Paul Grabowsky, Barney McAll & Mike Nock. While they have collaborated together in many groups for over 15 years this trio sees the members create something excitingly fresh and different, beyond catagorisation and well outside the jazz world they are better known in.
"Even the brilliant Melbourne trio of Stephen Magnusson, Julien Wilson and Stephen Grant struggled to still the racket with their gentle, tango-inflected pieces. Nonetheless, there was much to enjoy about this most democratic of bands. Grant is a remarkably self-effacing piano accordion player whose delicacy and swelling intensity allowed the music to breathe around the broad emotional scope played out by Wilson's sometimes bold, sometimes plaintive tenor saxophone, and Magnusson's flair for a rippling beauty of line on his nylon-string guitar." John Shand Sydney Morning Herald, Soup Plus Launch Party April 2005
Julien Wilson |Saxophones Winner of National Jazz Award 1994 Julien Wilson is a saxophonist & composer from Melbourne who runs his own trio, quartet & quintet. He performs regularly in Melbourne and spent much of the late 90's living and working in Europe and the USA. Julien has been invited to perform at many of Australia's major festivals as well as touring in Switzerland, Italy, Finland, Germany, Denmark, the UK & the US. He holds music degrees from Melbourne University (Victorian College of the Arts) and New England Conservatory in Boston, and teaches improvisation and saxophone at the Victorian College of the Arts and Monash University. Julien studied extensively under a New England Conservatory scholarship in the USA with Paul Bley, George Russell, Jerry Bergonzi and George Garzone, and worked there with Bob Moses Quartet and & the Artie Shaw Orchestra. He has performed in small groups with many of the major figures in Australian jazz and has been recognised for the excellence of his work through grants awarded by the Australian and Swiss government arts funding bodies for touring, study and recording
Stephen Magnusson | Guitars Winner of National Jazz Award 2000 For the past 7 years Stephen has been living in Switzerland performing with his bands SNAG and Face lifter at major festivals and clubs throughout Europe. During this time in Europe, Stephen was awarded the Swiss Diagonal Arts Grant and the Pop Kredit award with the band SNAG and also received rave reviews for his performances. Stephen spent time studying with Mick Goodrick and Jerry Bergonzi at the New England Conservatory. Stephen returned to Australia in 2000 to perform and record with his trio at the Wangaratta Jazz Festival. He was co-winner of the National Jazz Award and began playing again with Julien Wilson in a bass-less trio. Stephen performs regularly in Melbourne with many ensembles as well as recording and performing his original material with his two bands Face lifter and trio.
Stephen Grant | Piano Accordion A remarkably versatile and independent musician, Stephen is equally at home playing contemporary and traditional jazz as well as a variety of other styles of music. He is equally adept on trumpet, cornet, trombone, saxophone, piano, bass, guitar, banjo & accordian. In the traditional genre, he has played cornet with Allan Browne's New Orleans Rascals, Steve Waddell's Creole Bells, The Hoodangers, and his own New Orleans Six; trombone with Jazz On Tap; accordian with MOP, sax & cornet with Chris Tanner's Virus, and piano with Tom Baker. In more contemporary settings, he has played cornet & trumpet with the Australian Art Orchestra, Skazz, The Moscow Circus, Niko Schäuble's Papa Carlo and On The Other Hand, as well as with the Allan Browne Trio and the Paul Grabowsky Sextet. An incredibly consumate, tasteful and understated musician, Steve has played at festivals throughout Australia and toured in Europe numerous times with a variety of groups.